Hammond XM-2 / XM2-C
Drawbar Module
Naast de evolutie der Hammondorgels ging natuurlijk ook de ontwikkeling van de drawbar-modules gelijk op, o.a. in het succesvolle keyboard XK-3 werd als toonopwekking VASE III gebruikt, dus deze werd dan ook weer overgenomen in de nieuwste module, de XM-2.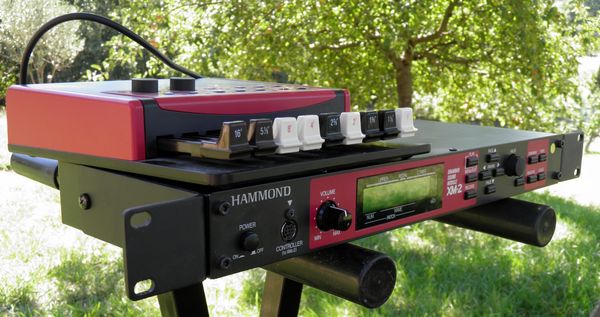 Eerst even de specs:
Sound Generator: 2 x Vase III as Digital Tonewheel
Harmonic Drawbars: 9 Pitches (Upper & Lower), 2 Pitches (Pedal) pitches is voetmaten
Waveform: B-type/Mellow/Brite (Upper and Lower) /Muted/Normal/Synth1/Synth2)
Percussion Harmonics: Second, Third, Fast Decay, Soft
Adjustable Touch, Velocity, Decay (Fast, Slow), Level (Soft, Normal)
Tuning: 430 ~450 (1Hz Steps)
Transpose: -6 ~ 0 ~ +6 semitones
Effects:
Internal Leslie: On, Fast, Brake, Digital 2 Rotors
Leslie-presets: 122, 147, 710, 760, 825(adjustable)
Vibrato and Chorus: V1, V2, V3, C1, C2, C3, Upper & Lower, On/Off,
Speed: 6,10Hz~7,25Hz
Digital Overdrive (buizen oversturing)
Equalizer: 3 Bands
Reverb: 10 Programs
Sustain: 5 Lengths (Pedal)
Key map functions: Split, Manual Bass
Adjustable Split Point, Lower Octave, Pedal Top Key
Patches/geheugenplaatsen: 128 Patches
Display 20 characters, 2 lines with 8 control switches and rotary encoder
Midi Templates: 4
Connections DC-Input(9v), MIDI In 1, In 2, Out
Expression Pedal (Phone jack)
Foot switch, Line out L/Mono, R
Headphones
8-pin Leslie Connector
Accessory AC-Adaptor
Dimensions 396mm (W) x 172mm (D) x 50mm (H)
Weight 3,5 kg

Het basis concept van z'n voorloper de XM-1 bleef in principe gelijk: een kleine platte "moeder-module"( XM2-C) waar het geluid in geproduceerd werd en een losse "afstand-bediening" voorzien van drawbars, die gemakkelijk tegen een lessenaar of onder een orgelklavier geplaatst kon worden.

Nieuw was, dat de controller nu aan de vóórkant van de " moedermodule" ingeprikt moest worden.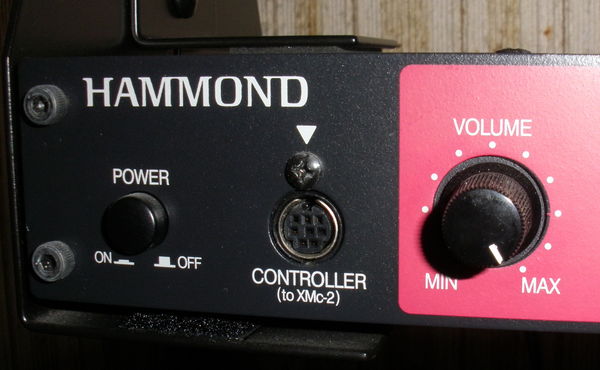 Ook kwamen er 2 stalen plaatjes in de handel, die er voor zorgden, dat de "moeder-module"in een 19 inch rack geplaatst kon worden.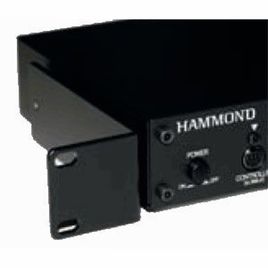 Hier de achterkant:



Nieuw, t.o.v. voorloper XM-1 is, dat naast een voetschakelaar nu óók rechtstreeks een Zwelpedaal (exp. pedal) aan te sluiten is en er twéé MIDI In ingangen voorhanden zijn, i.v.m. het aansturen door meerdere klavieren. Doordat de "moederunit" niet beschikte over een groot aantal bedieningsknoppen, was de XM-2C controller echt bést wel nodig.

Hier de specs van de "afstandbediening" unit: de Drawbar Controller XMC-2
Harmonic Drawbars 9 Pitches, 1 set
Controllers Leslie: On, Fast
Vibrato and Chorus: V1, V2, V3, C1, C2, C3
Percussion: 2nd, 3rd, 2nd+3rd
Overdrive: On/Off
Drawbar Select: Upper, Lower, Pedal
Presets: 1, 2, 3, 4, 5
Overdrive: Volume
Reverb: Volume
Accessory HMC-1 cable
Dimensions 182mm (W) x 233mm (D) x 47mm (H)
Weight 1,04kg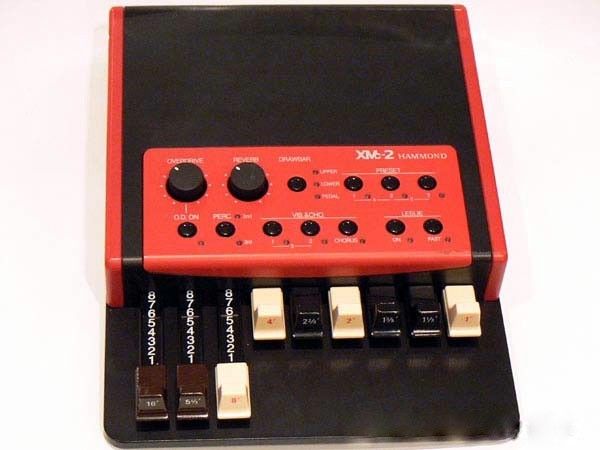 Hieronder nog wat extra documentatie: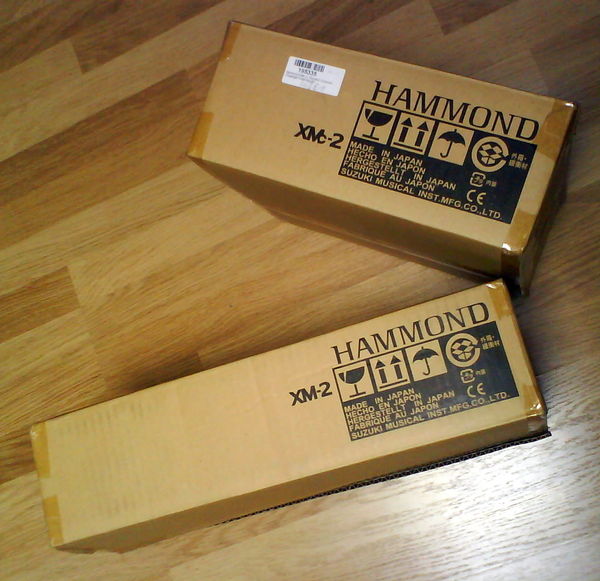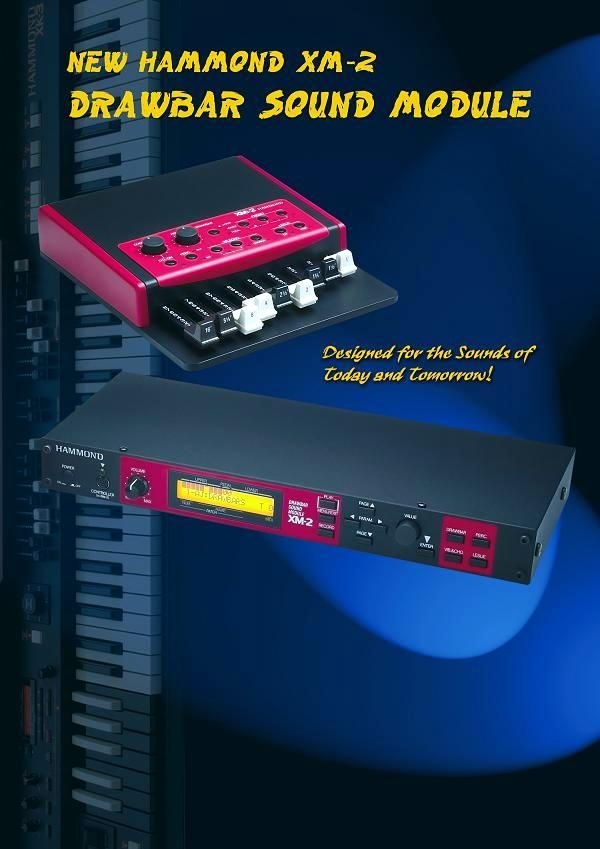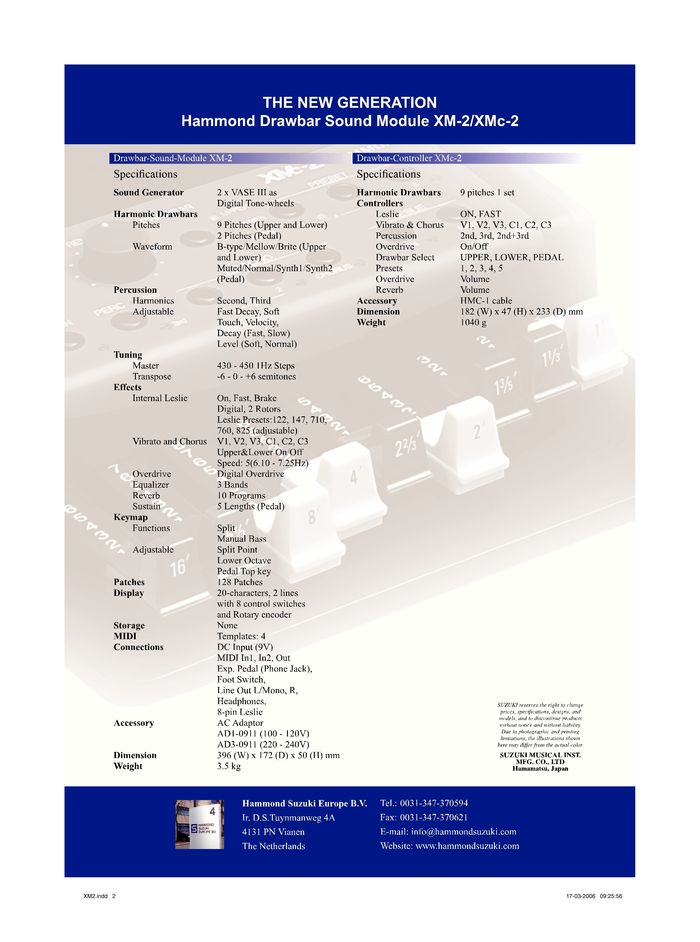 Tot slot nog even de XM-2 in actie
http://www.youtube.com/watch?v=srOXlO5I1k8